Every year spent together since the moment you said "I do" deserves to be celebrated.  Whether it's your first anniversary or your 50th year together, a wedding anniversary is a milestone for every couple.  Read our anniversary gift ideas and surprise your partner (or celebrate your parent's anniversary) with a heartfelt gift that will show how much you love them. 
Mark the First Anniversary with a personalised photo blanket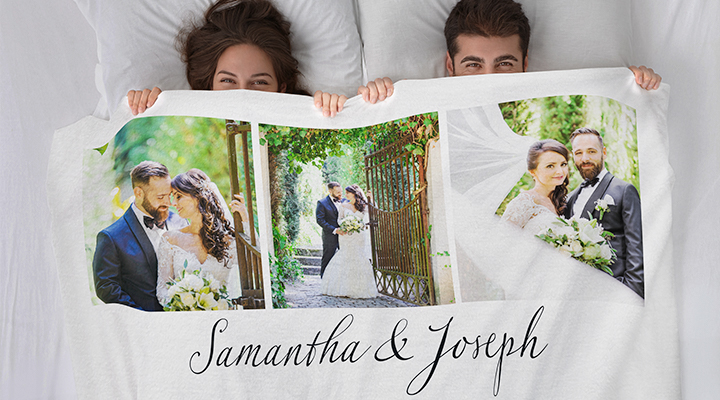 The first anniversary is a real special occasion. It seems only yesterday that you got married, but a year has already passed! For young sweethearts, there is nothing better than reliving the big day and printing the best moments on a personalized blanket. Be creative: choose one of our designs and create the photo collage of your Wedding Day.
Declare your love on a photo puzzle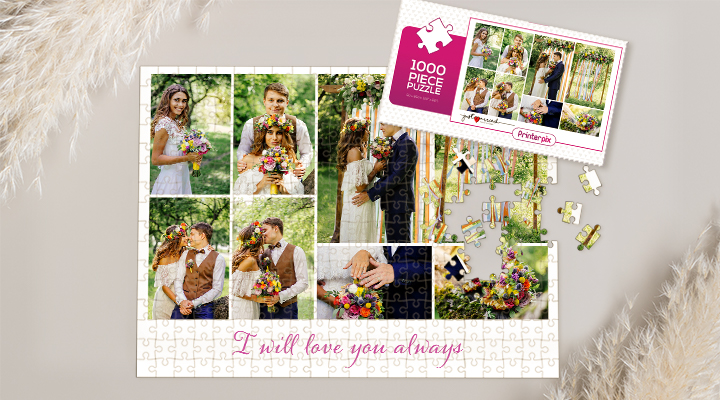 No matter how many years you have been together, you can never get tired of declaring your love! So, celebrate your next anniversary with a personalised present that shows your feelings to your significant other.  Print your happiest moments together on a photo puzzle and add some text to it to make it even more special.  Why not print your special memories on our new 1000 piece puzzle? 
Celebrate family with a unique keepsake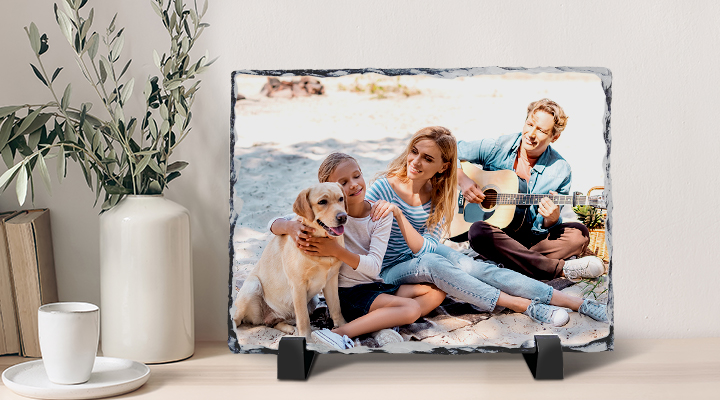 An anniversary is a day that celebrates family, especially the family you built together.  For celebrating family, there is nothing better as an anniversary gift than printing one of your latest family snaps on a stone slate.  Each photo stone slate is unique and has a natural shape and texture which makes it one-of-a-kind, like your love story. 
Frame your best moments together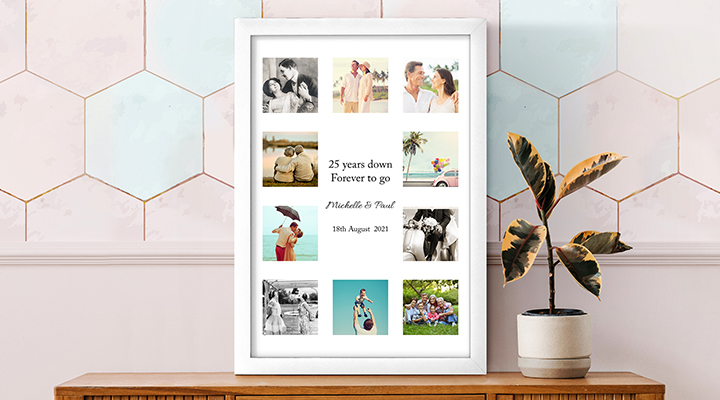 Are your parents celebrating their 25th Wedding anniversary?   Remind them of all the beautiful moments shared together over the years with a framed photo collage. Choose the size and the colour of the frame and then upload your photos. You can pick one of our designs and create your own photo collage adding some text.  This is a great anniversary gift idea to mark such an important milestone. 
Tell your love story on a photo book 
To all the lucky couples out there that found their better half and have created years of beautiful memories together, there is no better gift than a personalised photo book to collect all family photos.  Starting from the Wedding Day up until now, you can print up to 100 pages of photos in our photobook.  If you have many old photos and you don't know how to make them digital, you can have a look at one of our previous articles, How to scan old photos. If you have the time and you really want to make a remarkable anniversary gift, you can also collect messages from everyone in the family and add them to the book.  This book will be a treasured heirloom for the whole family. 
We hope you find these anniversary gift ideas useful and that we have inspired you on your next Wedding anniversary gift.