When it comes to creating a strong impression in the home, nothing can beat an impressive wall gallery, especially when done right. And when done right, you're guaranteed to receive comments and compliments, and create an impactful feeling or emphasise a vibe to your room.
Here are our tips on how to help you layout your canvases and art on your wall. Let's avoid unnecessary misplaced nails on the wall and make sure we get it right the first time.
Arrange wall art and canvases on a wall before putting hammer to nail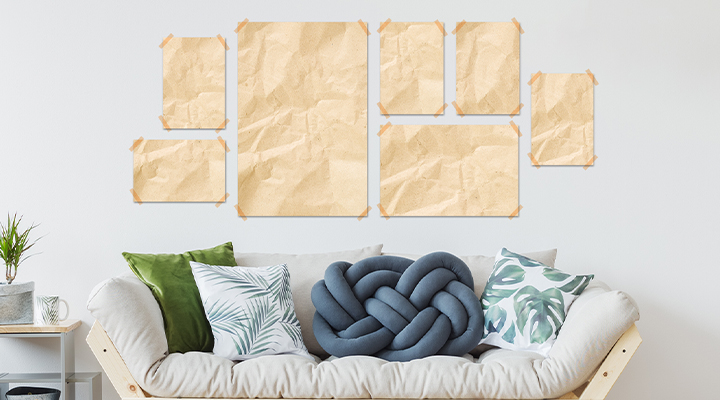 Roll out a large roll of craft paper on the floor, lay out all of your art and canvases on to it, and draw an outline around the edges of each with a pencil. Cut out each one using the drawn outlines as a guide.
You now have a cut out of each of your art and canvases. Using sellotape, you can stick them on to the walls and arrange them around until you are satisfied with the placement. Remember to use a leveller to keep pictures straight. You can use a pencil or coloured masking tape to mark out where to hang your pictures on the wall.
Hanging wall art and canvas over furniture and staircases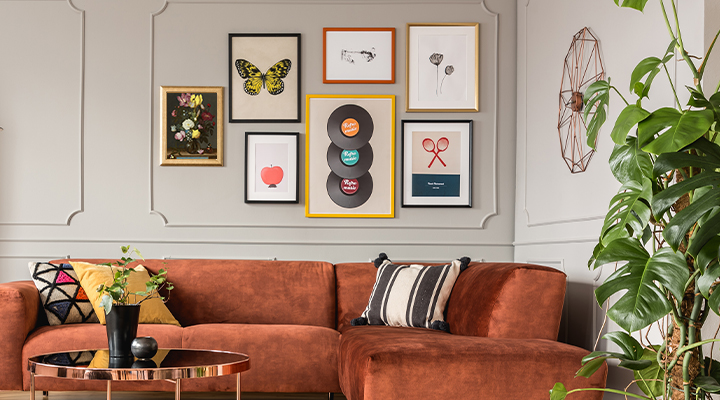 You may have a nice display above your couch or your king sized bed. Your wall art and canvases, grouped together, should ideally be no larger than the large sized furniture you are planning to hang them over. A work desk, a grand chair or single bed are exceptions to the rule. Be sure you have your display 10 to 20cm above your chosen furniture.
For staircases, consider the diagonal composition when hanging and arranging your wall art. It's easy to keep it all square, but to arrange your art and canvases to work with the diagonal ascension of your staircase will make your display more fun and impressive to look at. Keep it all at eye level with every step.
Selecting the right pictures for your wall display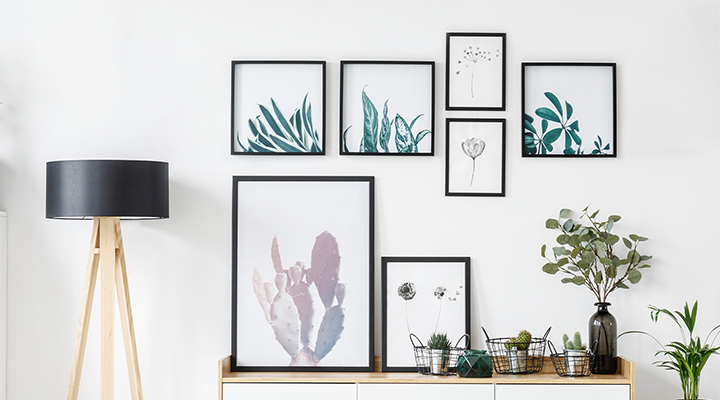 Consistency is key if you want an aesthetically pleasing wall display. Make sure the wall art and canvases you want to display on your wall compliment each other. For example, all of your wall art and canvases have black frames, or all of your imagery is in black and white, or all the images on display are of traditional art.
Also, consider if the wall art and canvases match the rest of your room's aesthetic. If you have hints or have dominant colours of pale beige and whites in your room, compliment with a white or oak wooden frame for all of your wall art and canvases.
How to arrange your wall art and canvases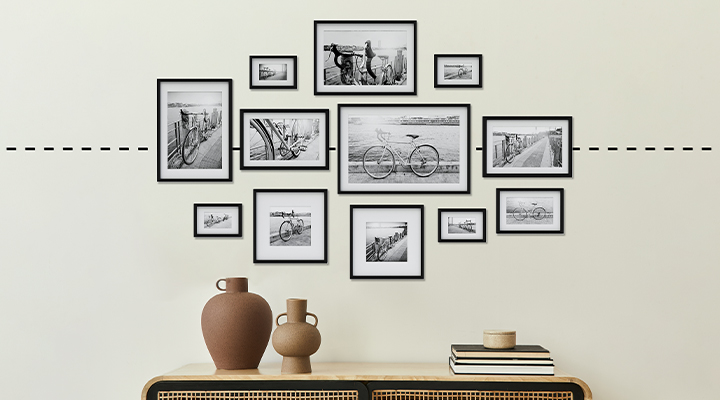 For wall art and canvases of equal sizes, the traditional symmetrical grid of an equal 2 to 3 inch spacing between art/canvases should work well.
If you have a singular large art piece or canvas, then use that as the centrepiece and arrange the rest of the smaller wall art/canvases around it.
For an array of wall art and canvases of varying shapes and sizes, you can display them using the mirror or reflection layout. Using an imaginary line, running horizontally or vertically through the largest art piece/canvas as your focal point, arrange your other canvas and art so that you mirror what is displayed on the other side to create an aesthetically pleasing balance (See above image).
Other helpful tips
Make sure that your display is of eye level. The core of your entire display is at a 150cm estimated height measurement from the floor.
Always start by arranging/hanging the largest piece of canvas/wall art first.
You can display your smaller to medium sized canvases of varying sizes on a dedicated shelf. If it's a wide enough shelf, don't hesitate to have your canvases overlap each other a little or even have them an inch or so off either side of the shelf it's sitting on.
However you arrange and display your wall art and canvases, have fun, be creative and let your personality shine.