Valentine's Day is fast approaching and it looks like it may be late to give your special someone a thoughtful and everlasting gift. We don't want another year of just supermarket boxed chocolates and flowers.
How do you say 'I love you' with a last-minute Valentine's Day gift that doesn't make it look like you forgot? Don't worry, because at Printerpix we've thought of everything, and we've got a selection of thoughtful last-minute gifts for you.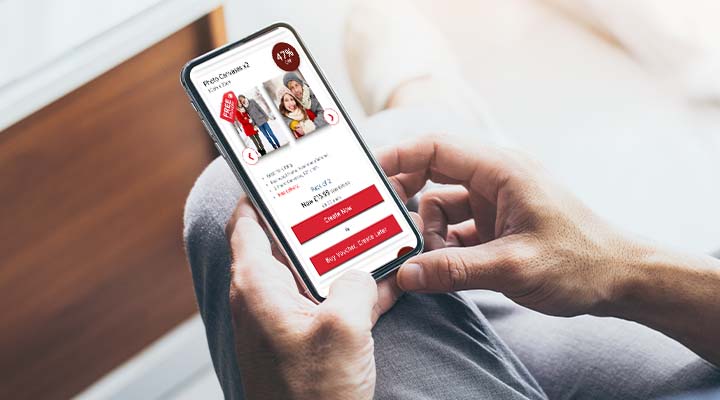 With a Printerpix gift voucher, you're able to pick out a product that your loved one will love and appreciate, giving an extra level of thoughtfulness to the gift voucher experience. Buy a gift voucher for a customisable product of your choice, and your special someone gets to have fun creating their product using their favourite photos. You can both spend your Valentine's evening having fun in customising the gift together.
We'll email your loved one with their gift voucher and your message. Their voucher is valid for 3 months, so they can redeem it whenever they like within that period. All they need to do is click the link in the email and go straight into creating their special photo gift with their photos.
And, you can do all of this from the comfort of your sofa. Last minute gifting has never been easier! Check out our product selections below.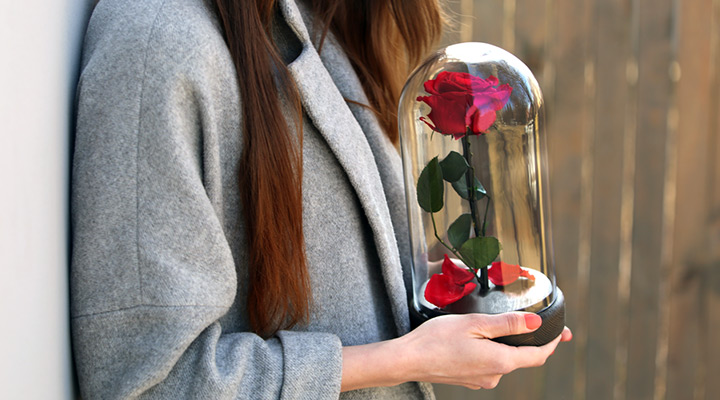 The classic red rose is the symbol of love, passion, romance and devotion. No wonder it's the perfect Valentine's Day gift! It's unfortunate that flowers in their prime don't last.
Here at Printerpix, we're offering Eternal Roses – real roses, carefully processed through a special technology at the time of peak flowering. There's no need for water and they last for over a year! 

Eternal Rose Dome – A gift to show your eternal love, encased elegantly and everlasting in glass. A perfect gift for your partner, especially if they're a Disney fan. The Eternal Rose Dome makes for an attractive and eye-catching décor for the home.
Eternal Rose Drawer – Make proposals or gifting a touch more romantic. The drawer (8 x 8 x 1.5 cm) comes with a decorative red rose on top, designed to put rings, earrings, necklaces, or any other special trinkets. A lovely and practical gift.
7 Eternal Roses Box – Instead of a box of chocolates, how about a box of Eternal Roses? Seven perfectly preserved red roses, delivered in a circular box. Makes a change from the usual way we gift bouquets. 
All carefully handmade and of premium quality and hypoallergenic.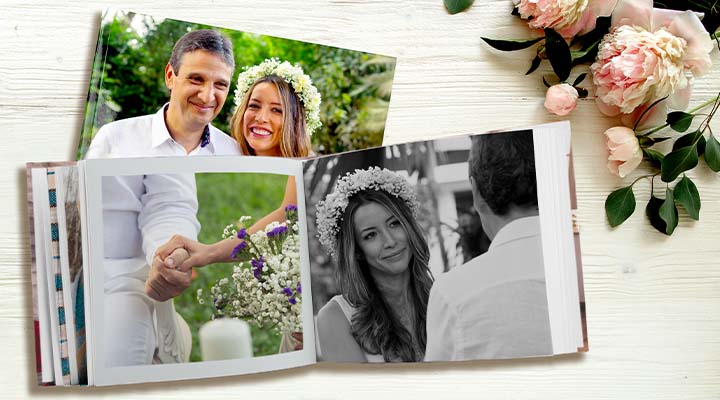 Perfect for the photographer in your life. Whether your girlfriend just got back from travelling, your husband loves nature photography, you've just welcomed a new baby into your life or you never got around to doing anything with your wedding photos, if there's someone in your life who has more photos on their phone than they know what to do with, a personalised photobook voucher is the perfect last-minute Valentine's gift.
Simply select the type of photobook and number of pages to buy your voucher. Your Valentine can then create their own photobook by uploading all their favourite photos and customising each page. Just wait for the smile on their face when they receive this thoughtful gift!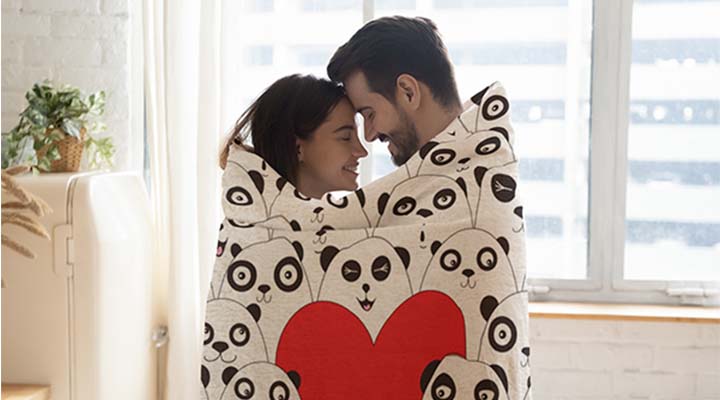 For you lovebirds who prefer a night in on the sofa, a cosy photo blanket is the perfect gift idea. Your loved one creates their own soft and cosy personalised blanket with their favourite photos, so they can snuggle up with their best memories.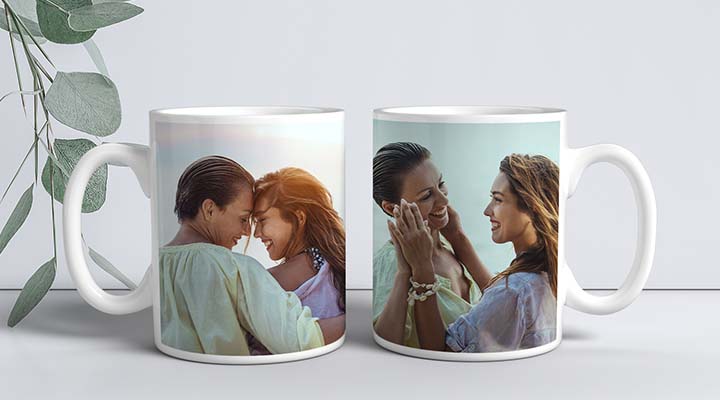 A photo mug voucher is a brilliant gift idea if you want something fun AND functional. We print your photos on quality ceramic, whether it's one photo or photo collage. Give your partner something they can smile about when they have their morning coffee: what's better than a mug you've designed yourself?
Want an extra touch of magic? Gift a magic mug for your hot beverage loving partner.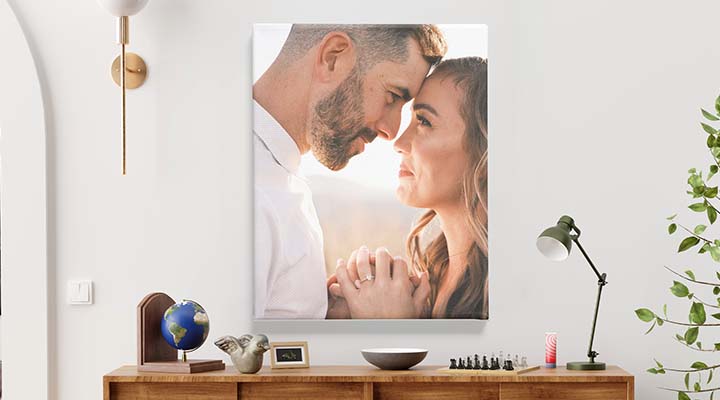 For the budding interior designer, a photo canvas voucher is the perfect Valentine's Day gift. Your partner can make their own canvas print using a favourite photo of the two of you, or a collage of all your best moments. Why not make a collage canvas with all your most romantic dates? This is a gift that will earn you serious relationship brownie points…who said last-minute gifts couldn't be thoughtful!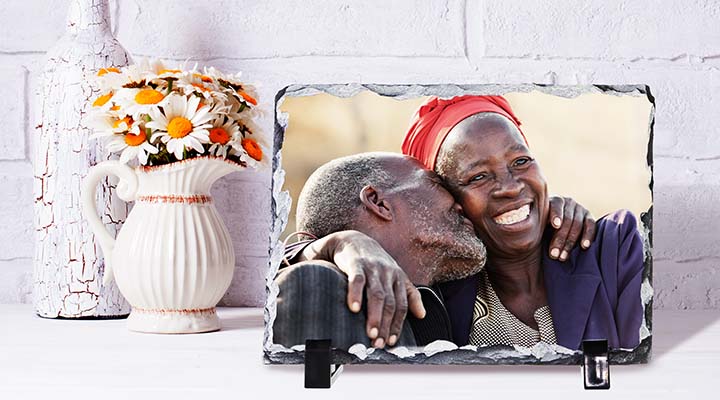 Looking for a last-minute Valentine's Day gift that's a bit different? Our photo stone slates are made from authentic slate which means that each one is unique and has natural stone edges. Your photo of choice is printed onto the stone using cutting edge technology, for a stunning, rustic effect.
Give your Valentine a gift voucher for a stone slate and they'll have so much fun creating their own gift!