---
Personalised Sherpa Fleece Blankets
Fully customizable
, Personalised Sherpa Fleece Blankets,
Landscape

,
10x7
, HD Printing, Ships in 24 hours
Or 3 interest-free payments of

£2.13

with
Offer ends 11th December
15th June

with Rush Delivery

15th June

with Expedited Delivery

15th June

with Standard Delivery
Reasons to love Printerpix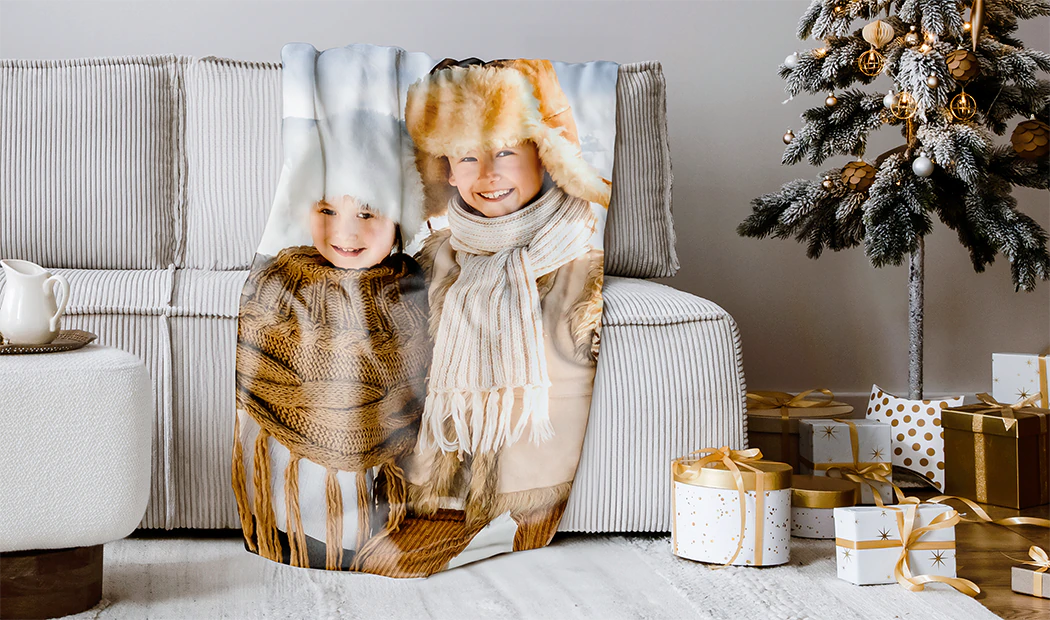 Photo blankets from £6.99 made with love for you and dispatched the same day. Beautiful colours and high-quality print guaranteed for life. Next day delivery. Available in a variety of sizes, these soft and stylish personalised blankets are one-of-a-kind works of art with a practical purpose.

Simply upload your photos and/or add text to one of our fluffy picture blankets and get ready to wrap yourself, or someone you love, in the warmth of custom comfort.

Cosy fleece: 300gsm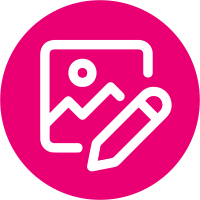 Fully Customisable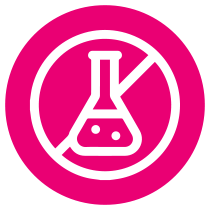 HD, Solvent-Free Printing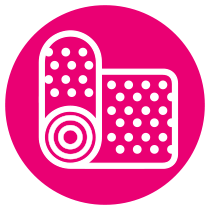 Premium Fleece Fabric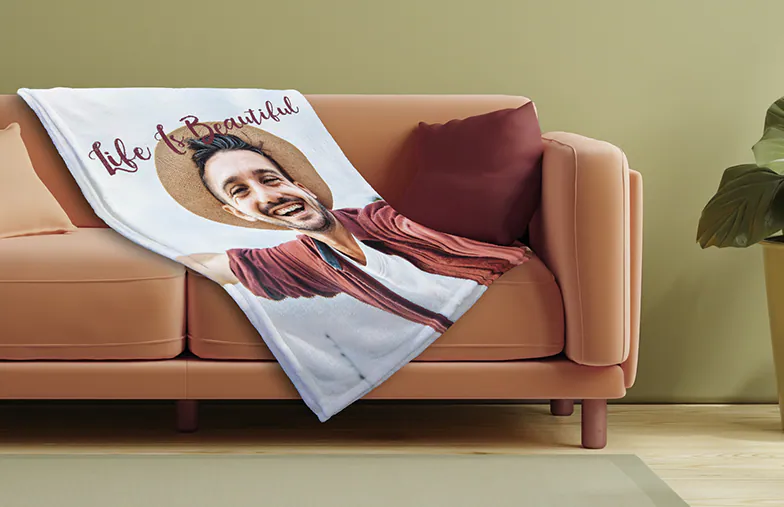 Think Outside the Frame
When it comes to preserving cherished memories, photo blankets stand out as unique keepsakes. Photo blankets offer the softest, cosiest way to showcase your favourite memories, making them a perfect addition to your home décor or a thoughtful gift for a loved one. Whether you're commemorating a special occasion, celebrating a milestone, or simply want to capture everyday joy, these fleece blankets provide a tangible way to do so.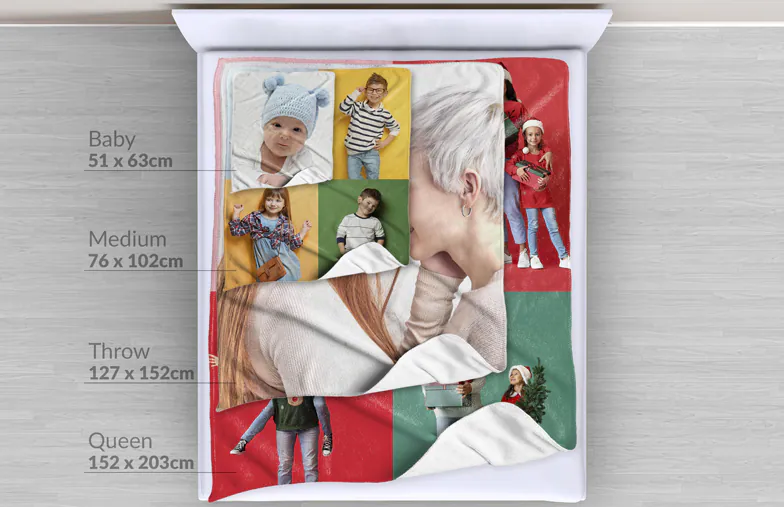 For the Special Memories
Picture this: you, wrapped up snug as a bug in personalised photo blanket, surrounded by your special memories. Each fleece blanket tells a story, bringing back those special times and people. It's more than a blanket; it's a connection to your most precious memories. Wedding, birthdays, graduations – relive your best moments all over again with personalised blankets with photos.
Upload
1 Easily upload your images from your device or social media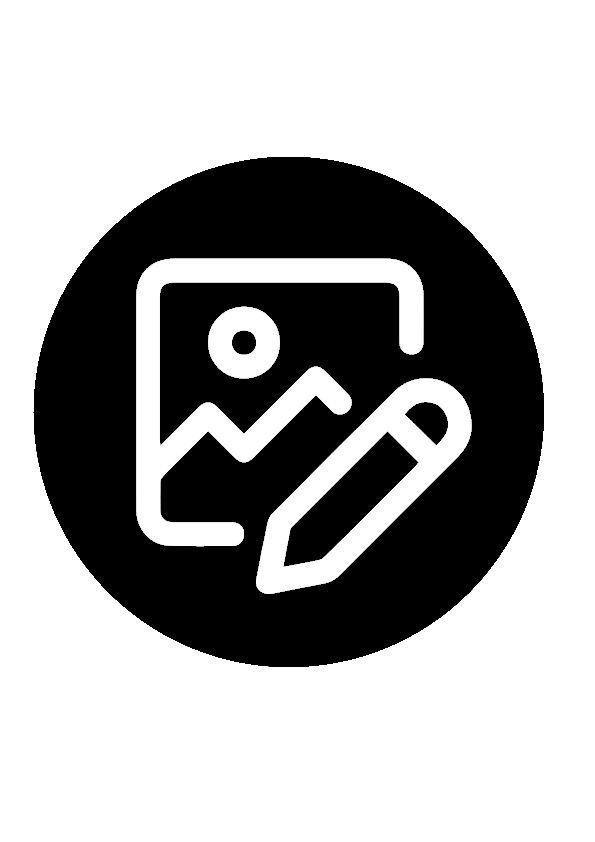 Customise
2 Personalise your product with borders, colours, shapes etc.
Check out
3 Confirm secure payment then sit back and relax.
Your data, including all payment details and images uploaded, will be held to a GDPR standard. Your privacy and security is our priority.
Our 100% Satisfaction Guarantee
means if you're not happy, we won't rest until you are. We know how precious your photo memories are. That's why we're committed to your satisfaction.
Material Details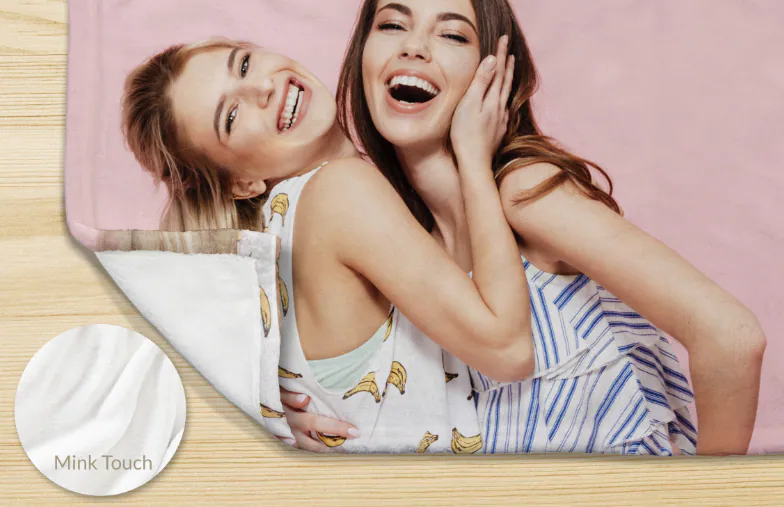 Cosy Fleece: with tightly woven fibres and brushed fabric, our cosy fleece blankets are velvety soft and made to last. When you wrap yourself in one of our fleece photo blankets, it's like a journey to memory lane, where every touch brings back those special moments captured in your precious photos.
Super soft and anti-pill fleece with a fluffy texture makes our photo blankets premium quality options for gifting or keeping. Whether you want to surprise a special someone one with a meaningful present or indulge in a snuggling, our fleece blankets are your go-to choice.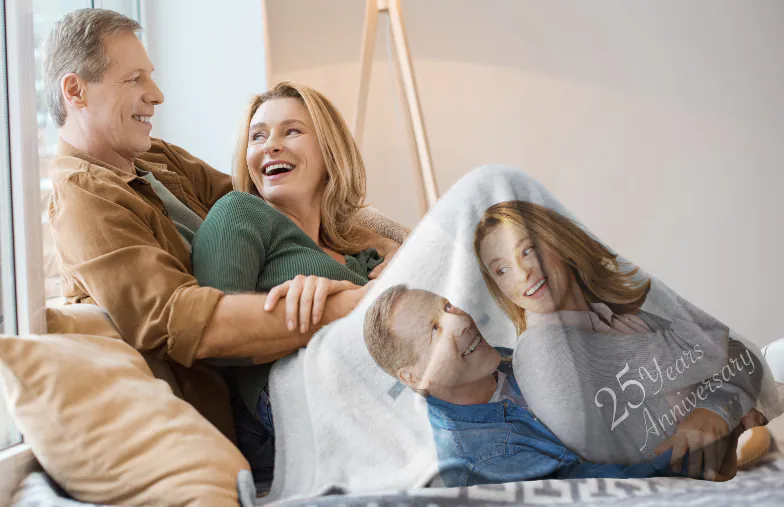 More information:
Wrap yourself up in fond memories with our personalised photo blanket. There's really nothing better than snuggling up with a cosy blanket, and this one from Printerpix is fully customisable, making it that extra bit special.
You'll love the soft texture of this personalised blanket as it keeps you warm and relaxed when you're huddled up on the sofa. It comes in various sizes, too. Simply choose your ideal size and get creative, adding whatever text and images you fancy to this comfy photo blanket.
Super soft, anti-pill fleece blanket
Bright, high-definition printing
Premium quality
Machine washable on low heat
Easy online creation
Upload photos from your device, online storage or social media
Customisable
With the option to print your favourite photo on top, this picture blanket will leave you feeling warm and fuzzy inside. Maybe you want to remember a fun birthday party with friends, or give your granny a memorable family portrait.
Simply choose your favourite image for this custom blanket and we'll have it printed in high definition and shipped to you or the recipient in no time. It's a great way to keep your loved ones close, no matter how far away they may be.
Whether it's for yourself or someone special, this photo blanket can be enjoyed by many. It comes in various sizes so you can have one for yourself as well as your little one. Whatever suits your needs!
Roll it up and take it on a family picnic or you can just as easily place it inside your dog bed for that bit of extra comfort on cold nights. It even looks great draped over a sofa. One thing's for sure, photo blankets are a gift to be shared.
Photo Blankets: Personalised Keepsakes for Every Occasion
Personalised photo blankets offer endless possibilities for capturing memories and creating heartfelt gifts for various occasions. From DIY projects to pre-made designs, these personalised blankets with photos are a popular choice for those seeking a unique and sentimental way to commemorate special moments and showcase their cherished memories. From fleece blankets to sherpa blankets, personalised cat blankets and personalised baby blankets, discover the best ways to create long-lasting memories with these cosy keepsakes.
Best Personalised Photo Blanket Ideas
Personalised photo blankets are a great way to celebrate special occasions and milestones. Here are some inspiring ideas:

1. Wedding Anniversaries: Celebrate a couple's love story by creating a fleece blanket featuring their favourite wedding photos. Add their names, wedding date, or a meaningful quote for a truly unique anniversary gift.

2. Newborn Babies: Welcome a new arrival with a photo blanket displaying adorable baby pictures or a collage of moments from their first year. Soft and cosy, these fleece blankets are both practical and sentimental.

3. Graduations: Mark this important milestone with a photo blanket showcasing the graduate's journey, from childhood memories to their achievements. Include photos with friends, family, and memorable moments from their academic journey.

4. Pet Lovers: Design a pet photo blanket highlighting a pet owner's beloved furry friend. Select their best pet photos and add their pet's name and special details, creating a heartwarming tribute to their beloved companion.

5. Milestone Birthdays: Create a unique gift for milestone birthdays by selecting photos that capture the person's life journey and important moments. From childhood memories to present-day achievements, a personalised photo blanket will elicit smiles and nostalgia.
Easy-to-Make Fleece Blankets
When it comes to making your own blanket, fleece is an excellent choice due to its softness, durability, and ease of use. Follow these simple steps to create a fleece blanket:

1. Choose Your Photos: Select high-resolution photos that hold special meaning to you or the recipient. Consider using a mix of candid shots, group photos, and close-ups for visual interest.

2. Select the Blanket Size: Decide on the size of the fleece blanket you wish to create. Fleece fabric is available in various dimensions, allowing you to create a personalised blanket with photos you'll love.

3. Upload and Personalise: Use an online design tool or software to upload your chosen photos. Arrange them in a visually appealing way, experiment with different layouts, add text or graphics, and preview the final design.

4. Place your Order: Once you are satisfied with the design, proceed to place your order. Double-check the preview to ensure all details are accurate before finalizing your purchase.

5. Receive and Enjoy: In a short time, your photo blanket will arrive, ready to be cherished and enjoyed. Wrap yourself or your loved ones in warmth and sentimentality.
How to Wash a Photo Blanket
To ensure the longevity of your photo blanket, it's essential to follow proper care instructions. Here are some tips on how to wash a photo blanket:

1. Machine Wash on Low Heat: When washing your personalised photo blanket, choose a gentle cycle with cold or lukewarm water. Avoid hot water, as it can damage the image quality.

2. Use a Mild Detergent: Use a mild, colour-safe detergent free from bleach or harsh chemicals. This will help preserve the vibrancy of the photo blanket.

3. Air Dry Flat or Hang: To prevent shrinkage or distortion, air drying is recommended. Lay the blanket flat or hang it over a clothesline, avoiding direct sunlight to prevent fading.

And that's how you wash a photo blanket! It's that simple. Personalised photo blankets offer a beautiful way to preserve memories and create personalized gifts. Whether you opt for fleece blankets, create unique designs for specific occasions, these cosy keepsakes will bring warmth and nostalgia to any setting. Start creating your own personalised photo blanket today and share your treasured memories with loved ones throughout the years.
Why Printerpix?
With millions of happy customers worldwide, we're experienced at what we do, and we guarantee our photo gifts will spread joy to you and your family.
Our 100% Satisfaction Guarantee means if you're not happy, we won't rest until you are. We know how precious your photo memories are. That's why we're committed to your satisfaction.
Our customer support team are always on hand to help and we'll do whatever it takes to make it right, whether that's a reprint of your order or your money back. That's guaranteed.
At Printerpix, our mission is bringing people together with our custom photo gifts. That's why we're constantly working and improving to give you the best-ever quality products that you deserve.
---
Large Orders
If you're planning to place an order for more than 10 items of a given product we have amazing special discounts for you. Please visit ourLarge Orders Pageto make an enquiry.
How it works
Personalisation made easy, quick and fun!
Upload
Upload your pictures from any device including social media
Create
Personalize and create to your taste from background, layout and text
Check out
Secure and easy checkout
Love
Love your product with 100% guarantee!
Exchange or money back guarantee for all orders.
Have questions? We are ready and waiting.
Overnight service available.
Each order is printed in the USA.
Enjoy 40% OFF Your First Order
When you join our newsletter! Be the first to receive exclusive offers, inspiration & more.
Rated 4.5/5
Based on 34,038 reviews from Trustpilot